May
16
Thu
JMCA Community Meeting

@ Mount Eagle Elementary School Cafeteria
May 16 @ 7:00 pm – 8:30 pm
Join your neighbors at the next JMCA Community Meeting on Thursday, May 16 at 7:00 PM at the Mount Eagle Elementary School cafeteria.
WMATA representatives will join us for a presentation and discussion about the Metrorail station extended summer closure. Join us to learn about travel planning and transit access during the station shutdown.
All JMCA events and meetings are KID-FRIENDLY unless otherwise noted (e.g. the Adult Holiday Happy Hour).
It's time to join or renew your JMCA membership! We will be accepting cash, credit, and checks, any household, owner or renter, can join! Annual membership fees are $20 per household, $10 for seniors, and $35 if you purchase two years in advance.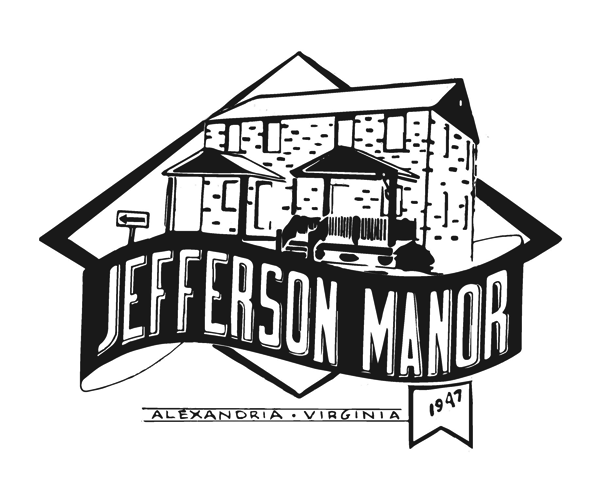 Jun
2
Sun
13th Annual Al & Sandy Snyder Home and Garden Tour

@ Start/End Location
Jun 2 @ 2:00 pm – 5:00 pm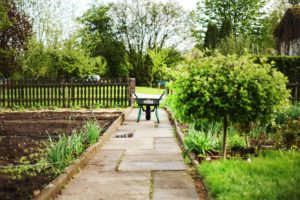 Join the neighborhood for the 13th Annual Al & Sandy Snyder Home and Garden Tour. The self-guided tour showcases our unique Jefferson Manor properties. Have a smart home renovation, DIY project, or landscape inspiration to show? Show off your home, yard (or both!), it's up to you. You pick what to show and what is off-limits. Just backyard, only kitchen, main floor, etc.
Contact info@jeffersonmanor.org to be added to the tour map.
The tour, hosted by the JMCA, was named for Al & Sandy Snyder in 2013. The Snyders bought their first home as newlyweds in Jefferson Manor in 1947. They raised their three children here and lived in the Manor until 2011.
The tour will start and end at 2803 Fairhaven Ave, Alexandria, VA. Join neighbors for an after-tour happy hour hosted by the Davis family at 2803 Fairhaven Ave.
Jun
15
Sat
JMCA Community Yard Sale – Benefiting The Red Cross

@ Community Name Your Own Price Yard
Jun 15 @ 8:00 am – 12:00 pm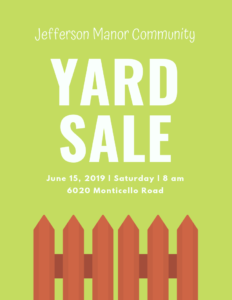 Done with your spring cleaning and have a few things left over? Set up your front yard or driveway for the JMCA Community Yard Sale!
People with a small number of items to sell are invited to join the community area at 6020 Monticello Road. This location will also feature a "Name Your Own Price" section where 100% of proceeds go to The Red Cross.
For you bargain hunters, get excited to walk around, talk to neighbors, and score some great finds. We will have signs and advertising this year, but feel free to do your own as well.
In the spirit of past fundraisers, participating homes are invited to donate a percentage of sales to charity. We suggest at least 10%. Last year, we donated more than $400. Let's beat that!
Contact Chair of the JMCA Board Kay Floyd – chair@jeffersonmanor.org – with any questions, to join the community area, and for information on how to donate.